Pukka Mint Refresh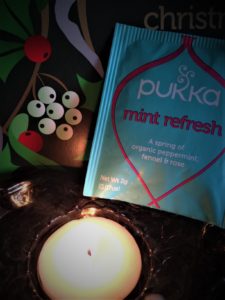 With Pukka's words:
'Sweet fennel & Rose soothed by a splash of peppermint. A time to find a moment of peace as Christmas draws near'.
Arg, mint again…
No matter what is in it besides the distinctive mint, I know I might not like this tea.
Sorry Mint lovers…
This coming weekend is filled with Christmas arrangements.
Tonight I am drinking some mulled wine with a friend, tomorrow me and my family are having a Christmas celebration and finally sunday also a Christmas party with my in-laws.
So I am not complaining 🙂
Tasting Pukka Mint Refresh
This minty blend is a blend with peppermint leaf (50%), licorice root, sweet fennel seed (10%), hibiscus flower, rose flower (5%) and coriander seed.
Drinking this tea, no… I had a sip and I just don't find the minty taste nice 🙁
But if you are into teas with mint, don't hesitate.
Quote day 15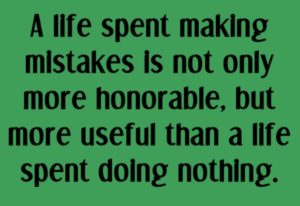 'A life spent making mistakes is not only more honorable, but more useful than a life spent doing nothing'.
I totally agree on this.
Maybe this quote could make your 'mistakes' feeling better.
To me it certainly does.
Wishing you all a nice day ♥