Pukka Elderberry & Echinacea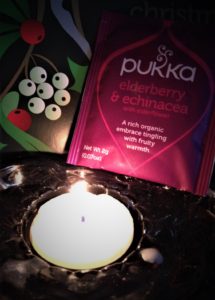 Pukka saying:
'Elderberries & inky blackcurrants crowned with the beauty of FairWild elderflowers. A sumptuous embrace of wellbeing'.
I need some wellbeing after this Christmas evening.
Normally what I like the best about Christmas evenings, is when they are over… 😉
I am not a big lover of traditions and unwritten rules…
On the other hand I love the spontaneous, surprising and funny things in life…
Tasting Pukka Elderberry & Echinacea
This blend consists of licorice root, ginger root, echinacea root and leaf (10%), beetroot, aniseed, elderflower (8%), peppermint leaf, orange peel, elderberry (6%), rosehip, acerola juice flavour, orange essential oil flavour and natural blackcurrant flavour.
While drinking this tea, a sweet, warming and spicy sensation meets my tongue.
A lovely deep berry taste, you will love it, if you love berries. Almost tastes like a delicious fruit juice.
Perfect for a lazy afternoon with a good book during the Christmas holidays.
What is Echinacea 
Echinacea is a native North American coneflower that was discovered and used as a traditional herbal remedy for more than 400 years by the Indian tribes.
Echinacea has been identified as having anti-inflammatory, antioxidant, and antiviral properties and as an immune-strengthening agent.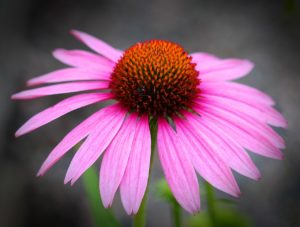 This makes it a very popular herbal supplement that's available in many commercial products. One of the common ways to use Echinacea is to drink it in a tea.
It fights the flu
It helps control blood sugar
Aids healthy cell growth
Potentially reduces risk of breast cancer
Helps manage anxiety
Lowers blood pressure
Reduces inflammation
Quote day 22
'Just because something is traditional is no reason to do it, of course'.
Said by author 'Daniel Handler', (born February 28, 1970 in San Francisco, CA).
I agree with Daniel and now looking forward to some relaxing days ♥