Pukka Night Time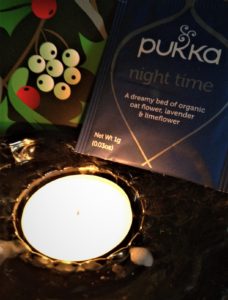 Pukka's last words for now 😉
'Let hush descend now all is prepared. Sleep well and wake refreshed – ready for a beautiful day. Happy Christmas!'
So now I have tasted all 24 of Pukka's wonderful herbal blends. And I think my favourite teas are:
Three Ginger
Three Cinnamon
Supreme Matcha Green
Maybe you will notice that none of them contain licorice root. I find the licorice root taste unusually intrusive. So many of Pukka's blends are sweetened with licorice root!
But it just proves that Pukka teas are for everyone who like herbal blends 🙂
Tasting Pukka Night Time
Pukka night time is a blend of oat flower (30%), licorice root, chamomile flower, lavender flower (14%), lime flower (10%), valerian root and tulsi leaf.
I have used Pukka Night Time as a bedtime tea several times and I find it mild & tasty with delicate floral flavours.
I think it's important that bedtime teas contains valerian root.
Valerian is one of the most commonly used herbal remedies for insomnia.
Studies have found it helps improve the speed at which you fall asleep, depth of sleep (achieving deep sleep 36 percent faster), and overall quality of sleep.
However herbs can affect different people in different ways, and 1 in 10 people actually tend to feel energized by valerian root, which may impede sleep. If you notice this tendency, try for example chamomile tea instead.
Quote day 24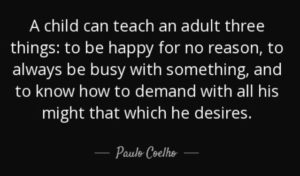 'A child can teach an adult three things: to be happy for no reason, to always be busy with something, and to know how to demand with all his might that which he desires'.
Said by one of my heroes 'Paulo Coelho', Brazilian author, born 1947 in the city of Rio de Janeiro.
Before dedicating his life to literature, he worked as theatre director and actor, lyricist and journalist.
In 1986, he did the pilgrimage to Saint James of Compostella, an experience later to be documented in his book 'The Pilgrimage'.
In the following year, Paulo Coelho published 'The Alchemist'.
Slow initial sales convinced his first publisher to drop the novel, but it went on to become one of the best selling books ever.
You should read it….
Wishing you a wonderful night with sweet dreams ♥
And may all mine and your wishes come true in 2018 😀