Pukka Christmas Calendar day 7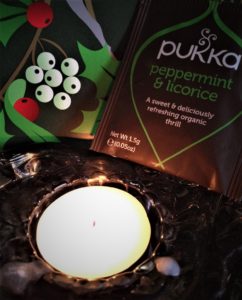 A new day threatens, thank God I have Pukka 😉
In Pukka's words:
'Excitement is here for all to savour. The rush of sweet licorice cooled by the minty brilliance of peppermint.'
A Danish hairdresser is told to be the one, who invented this tea, but I am not sure that's correct. Anyway I have tasted this blend before, and it is not meant for me disliking both peppermint and licorice root.
Tasting Pukka peppermint & licorice
Pukka peppermint & licorice is a blend of two things, peppermint leafes (60%) and licorice root (40%).
It is probably a good combination, if you are into the minty and sweet taste.
A woman at Amazon writes that for someone with a very sweet tooth, this blend is brilliant and so satisfying. And she continues:
'I normally need some biscuits after dinner but this tea does the trick'.
Another customer writes:
'It is named "peppermint & licorice" in that order, but the licorice is the more dominant flavour with the peppermint not overpowering – it's too easy for mint flavour to take over completely, but here they have got the balance absolutely right'.
What does the word Pukka actually mean
Pukka comes from an Indian word that means genuine, authentic and top quality.
When the founders Tim* and Sebastian set up Pukka, they wanted to reach as many people as possible to connect them with the wonders of plants.
They also wanted to create a business that would bring benefit to everyone they came into contact with.
Pukka is all about using business as a force for good, creating circles of benevolence so that people, plants and the planet can all benefit.
I wish every company would be thinking like this…
* Tim (Mr. Tim Westwell ) is the rich man, who called for entrepreneurs wanting to establish business in a 'healthy and sustainable' way.
Quote day 7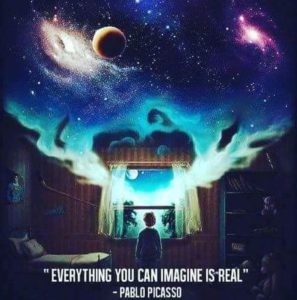 'Everything you can imagine is real.'
If you like me believe in parallel universes, these words are absolutely amazing.
This actually means, that your wishes and thoughts might be happening in another dimension… or that you are in the process of making it real…
Call me crazy but I think it is true 🙂
Wishing you a lot of imagination combined with a Pukka tea ♥