Pukka Three Cinnamon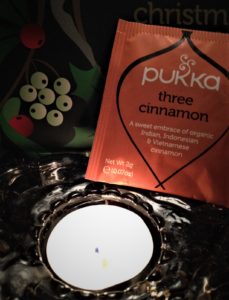 Cinnamon, how nice and in Pukka's words:
'Forget the cold and bask in the sweet heat of cinnamon's golden suntrap. An embrace worthy of a moment under the mistletoe.'
I think this tea might be good to 'hygge' with. The Danish word 'hygge' is a word not common in other languages.
When I use google translate to translate 'hygge', the words that pop up are: fun and coziness.
From British people I know that they also want some 'hygge'. That is why the British actually adopted this word. Really? Yes, really 🙂
Collins English Dictionary named the word 'hygge' the runner-up – after Brexit – as word of the year in the UK in 2016.
Several books focusing on 'hygge' followed during that period such as 'The Little Book of Hygge' by Meik Wiking, Danish CEO of the Happiness Research Institute.
Tasting three cinnamon
Pukka three cinnamon is an organic blend of only cinnamon; Indian cinnamon, Indonesian and Vietnamese cinnamon.
As I love cinnamon I find this tea sweet, delicious, refreshing and smelling just like any freshly baked cinnamon bun.
Did you know that cinnamon has anti-inflammatory properties?
Most Western people have high degrees of inflammation in the body, so I highly recommend you this tea.
Cinnamon and health properties
Cinnamon is loaded with powerful antioxidants, such as polyphenols.
Antioxidants protect the body from oxidative damage caused by free radicals.
In a study that compared the antioxidant activity of 26 spices, cinnamon ended up as the clear winner, even outranking 'superfoods' like garlic and oregano.
In fact, it is so powerful that cinnamon can be used as a natural food preservative.
Read much more about this powerful herb here.
Quote day 8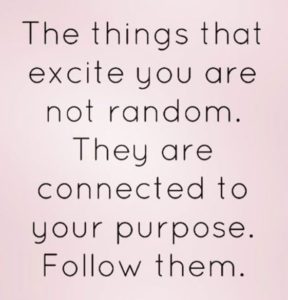 'The things that excite you are not random. They are connected to your purpose. Follow them.'
I think every person has a purpose.
But how to find it?
Unfortunately, I do not have the recipe, but I think it's a good idea following one of these advices…
A Danish clairvoyant to whom I have great trust, says that your purpose is to be yourself.
With these words you have a nice Pukka time –
And don't forget to hygge… ♥