Postcard Teas in London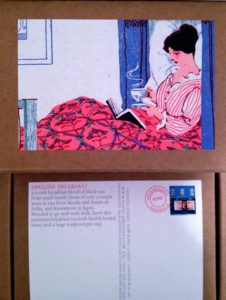 The 'gentleman' and I had decided to visit the tea shop Postcard Teas located just off New Bond Street. We had barely enterede the tea shop before a seller said:
– Welcome to Postcard Teas, could we offer you a cup of tea? 🙂
Five minutes later we were enjoying an amazing cup of Earl Gray tea.
Postcard Teas is, despite its modest name, a major tea supplier to the catering industry, and responsible for the tea menu at many of the UK's largest restaurants. Also in Paris, Copenhagen and elsewhere.
The Story behind
The man behind Postcard Teas is the british Timothy D'Offay. He lived in Kyoto, the old Japanese capital, 20 years ago. There he got very fascinated by tea, the culture of tea and all the amazing tea plantations.
This gave Timothy the idea and the desire to import tea in the late 1990s from the people and places he had visited, and in the year 2000 a new tea supplier was born.
Postcard Teas is the first tea company in the world to sell tea exclusively from small farms.
Tea from small farms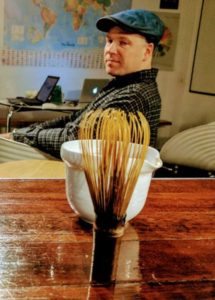 It is really sympathetic that Timothy cares about both the tea workers and the environment. This implies buying tea from small tea farms less than 15 hectares. Thereby he is also contributing in avoiding monocultures which is good for both the environment and the wildlife.
An additional plus is that these small tea growers are provided with much more economical profits from growing the tea than tea workers in the big tea industry. A typical tea industry worker may see no more than 1 pence compared to 1.60 pounds per package of sold tea.
See my purchases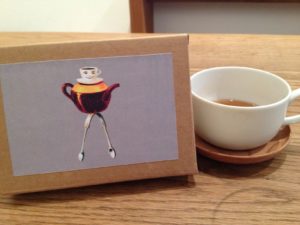 I decided to buy the wonderfully tasty Earl Gray tea and a black roasted tea from Japan, named Black Sun. Plus some of their sweet and funny postcards filled with tea.
My mother in law had the pleasure of receiving one of the postcards. She really liked it.
Now if you are in to Earl Gray tea like me, tren try the one from Postcard Teas. It's truly awesome. The best I ever had, in fact.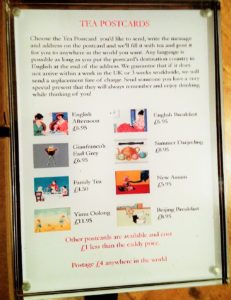 The seller explains why:
– The cold pressed bergamot oil that we use is bright and citrusy with a fruity, grapefruit-like taste. The taste is much milder than the more floral or perfumed oils, which are often used in scenting Earl Gray teas.
The Earl Gray tea is also Postcard Teas' bestseller.
Find your postcard to a tea lover here.
Visit Postcard Teas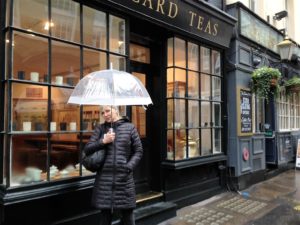 Don't forget visiting Postcard Teas when you are in London.
It is located a little bit away from the busy and crowded streets. In fact it's like getting to a completely different neighborhood with old pavements and shops.
I imagine these surroundings to be close to the look of a 18th century.
You can read more about Postcard Teas here.
This post is also available in:
Dansk (Danish)