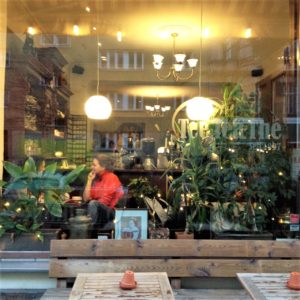 The 'gentleman' and I are chasing tea experiences. This time Berlin is in sight.
We are heading towards the tea room Tee Tea Thé in Goltzstraße 2, 10781 Berlin. This place has been around since 1997. It is located in an area called Schoeneberg in West Berlin.
Standing in Goltzstraße 2, looking down the wide avenue with the well-kept residential buildings, it is easy to see that you are in a neighborhood populated with higher middle class in West Berlin. The contrasts between East and West Berlin are still enormous, but that's what makes Berlin so endearing.
Tee Tea Thé is filled with an atmosphere of coziness, both in- and outside. Look at the top picture, with wooden tables & benches including ashtrays for the needy. That we are in Berlin is obvious, because the smoking-allergy hasn't reached the same heights as in Denmark.
Inside Tee Tea Thé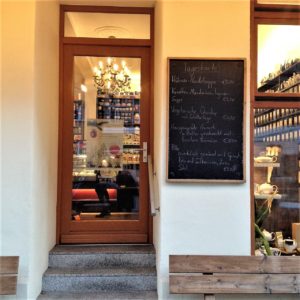 Three steps and you are inside at Tee Tea Thé. Ah – it's really great to get inside cause the temperature in Berlin is not worth talking about in February. Inside the first thing I notice, are all the large blue cans with teas from around the world. Quite charming!
The tea room is right next to the tea shop. Tee Tea Thé is filled with regulars, a good sign!
The atmosphere is highly 1970-inspired and it seems that you would also be allowed to take a nap here 😉
We are lucky to even get a table, because the place is stuffed with people. But the table by the handwritten 'Tageskarte' is available. I truly have a weakness for the handwritten. It's just more inviting, I think …
And don't we all miss the good old handwritten postcards? My friend Karin said that she would love to have postcards. I always try to remember it when on holiday – so far I have only forgotten it 7 or 8 times 🙂 shhhh ….. don't tell Karin … 
Our meal at the Tee Tea The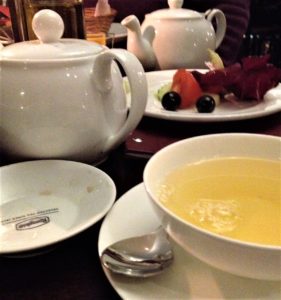 The 'gentleman' starts with a ginger-lemon tea. It seems like a a good idea when it is cold outside as it was the day of our visit.
I am choosing a Genmaicha tea. Uhm, the taste is extremely nice when you are cold and in need for something hot…
Genmaicha is – as you might know – a japanese tea blend of green tea and toasted rice. I just love this tea for its sweet, mild and slightly toasted flavour. Some is calling this tea 'popcorn-tea'.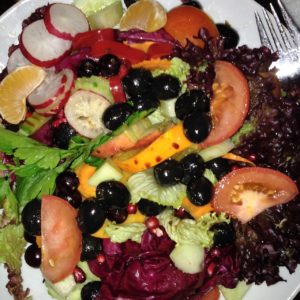 Our ordered food is a little mixed blessing. The 'gentleman' is pleased with his 'Karotten-mandarinen-Ingwer-soup' – a good meal in the cold weather, but I'm a bit disappointed with my big bowl of salad. The salad is not particularly delicious 🙁 It looks great visually, but I think the problem is the far too many different ingredients.
Tee Tea Thé however has many other good dishes to offer, so a visit to Tee Tea Thé is definitely worth it, a day when you are on the edges. And bring your coffee drinking friend, because the teahouse also offers coffee, besides beer and wine.
Ronnefeldt te, yeah
Of course I bought some of the delicious german 'Ronnefeldt' tea. Ronnefeldt tea is a german brand established in Frankfurt am Main in 1823. If you like rooibos tea I really recommend their rooibos with orange and cream flavors, which is so nice. This rooibos tea and some of 'Ronnefeldts' warming winter teas, found place in my shopping bag.
Normally I'm not particularly crazy about fruit- and herbal teas, but 'Ronnefeldt' does make some, I really enjoy drinking. In particular, the 'Kandierte Mandeln' is super tasty. It consists of apple pieces, hibiscus, ground almonds, cinnamon and aroma. Uhm! Try it..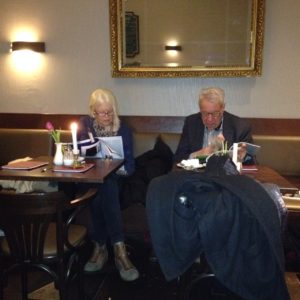 Finally, enjoy this elderly couple at Tee Tea The – I think they are absolutely irresistible ..
They almost looks as if they are at home.
(Click on image to enlarge)
This may be how we look like in 40 years, the 'gentleman' and I, haha ​​;-)
This post is also available in:
Dansk (Danish)