Pukka Christmas Calendar day 1
Finally 1 December and I can have my 'first' Pukka tea from my Pukka Christmas Calendar. Isn't it nice? This year I only have three tea Christmas Calendars 🙂 One from Pukka, one from Perch's and one from Tante-T.  Perch's and Tante-T are Danish tea companies.
Every day in December I will make a short post combining Pukka tea and my selected quote for the day.
The tea for 1 December is named 'revitalise' and for every tea Pukka has printed some words underneath the tea bag. On 'revitalise' Pukka's words are:
'Let the show begin. The pop of aromatic cardamom and the spicy flash of ginger & cloves. Christmas in your cup'.
Tasting Pukka 'revitalise'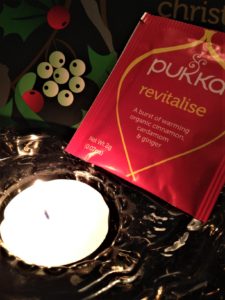 Revitalise is a green tea flavored with cardamom, ginger, cloves, cinnamon and elderflower.
Drinking this tea, I feel the warming ginger. This tea gives an energetic boost this chilly (at least here in Denmark) Friday morning and it is actually a very nice tea. Spicy and tasteful.
If you are into the ayurvedic world, this tea is for the 'kapha types'. So I really shouldn't be drinking it, as I am the 'pitta type' – but instead give it to 'the Gentleman' (my husband, who is tested to be a 'kapha type')…
But I don't want to share this tea 😉
Want to know more about Ayurveda and finding your type, click here.
The man behind Pukka
I don't know if you are familiar with Pukka teas and the co-founder? If not, the co-founder's name is Sebastian Pole and naturally he is also a master of herbs.
Pukka's top competence is tea preferably made of herbs and spices. They are all organic and some of them also Fairtrade certified.
This is one of the reasons I have been drinking Pukka tea for approximately 10 years now…
Curious to taste the tea of the day? Buy Pukka Revitalise here.
Now for the quote.
Quote 1 December
'It's a funny thing about life; if you refuse to accept anything but the best, you very often get it'….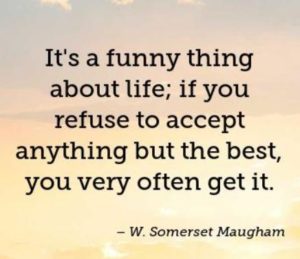 The quote is by William Somerset Maugham – important British Author (1874 – 1965).
I like this quote because I think most people are satified with less.. Maybe this includes me…
And now it's up to me to answer why I've chosen this particular quote.
I think I am compromising to much on important areas of my life.. Therefore this message. Does this also include you?
Despite the thoughtful words, have a very nice 1 December filled with tea and ♥