Pukka Christmas Calendar day 4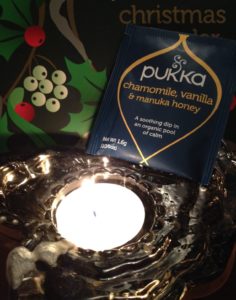 Chamomile tea, not my favourite tea but this blend is actually okay. I am using it as a goodnight tea.
Pukka writes about this tea:
'In amongst the chaos and clutter find your inner pool of calm. Sweet vanilla & honey to cherish and soothe your soul'.
As mentioned I am not a big fan of chamomile, but chamomile is so healthy for women so I think all women should be drinking it. Read why inside this post 🙂
Tasting Pukka Chamomile, vanilla & manuka honey
In this tea you will find chamomile flower 68 %, sweet fennel seed, licorice root, manuka honey flavour, vanilla pod and vanilla flavour.
I don't like pure chamomile tea, but this blend with vanilla og manuka honey do the trick for me.
If you are already fan of chamomile tea, then just put the kettle on for another cuppa, sit back and enjoy what's coming next.
Chamomile and death risk
A recent study in the United States examined the connection between people who drink chamomile tea and mortality rates.
A total of 1677 women and men over the age of 65 participated in the study, which was published in the journal 'The Gerontologist' in December 2016.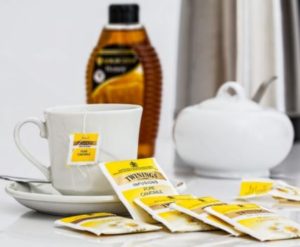 The study of the 1677 women and men's consumption of chamomile and the causes of death took place over a period of seven years. Fourteen percent of the participants in the study drank chamomile tea.
Researchers found that chamomile tea was associated with a 29 percent reduced risk of death among women after correcting for demographic differences, health problems and lifestyle.
The men in the study who drank chamomile tea did not have the same reduced risk of dying early.
"The reason for the difference between women and men is not clear, although women were shown to be more frequent users of chamomile than men," said Bret Howrey of the University of Texas.
It is still unclear how chamomile tea is associated with decreased mortality.
Read the entire article from Oxford University Press, click here.
Quote 4 December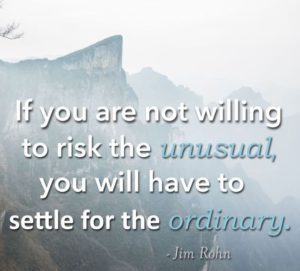 I truly like this quote by Jim Rohn.
Jim Rohn was an American entrepreneur from Washington, USA. Born 1930, dead 2009.
'If you are not willing to risk the unusual, you will have to settle for the ordinary'.
I like this quote because I am also trying to skip the ordinary… I will let you know when this has happened 😀
Have a magnificient 4 December ♥