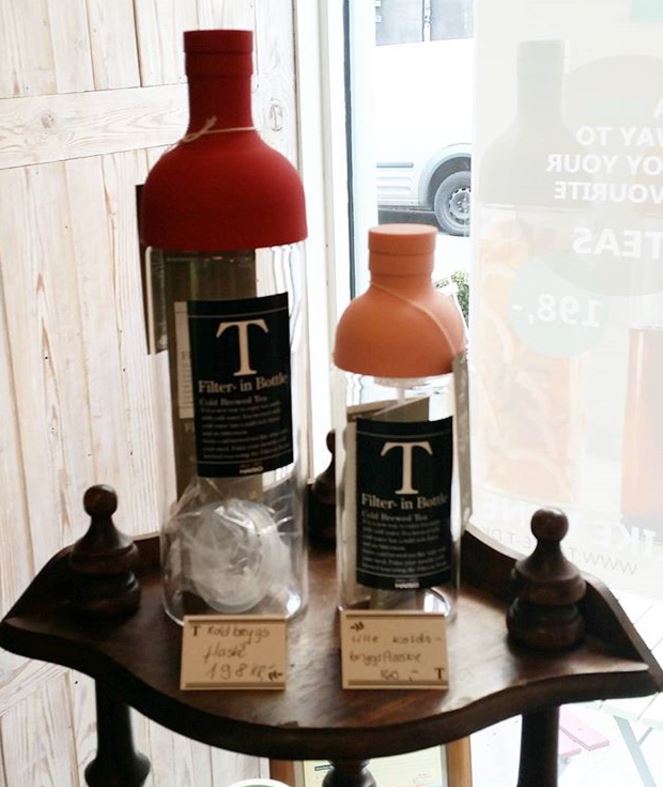 In addition, you can enjoy how healthy and affordable this alternative is to soft drinks, like for example a glass of wine or a coke on a hot summerday. Your very own home-made cold brewed tea, which you can also experiment with for example by adding fruit, herbs or flowers.
The idea of Hario Cold Brew Tea Filter in a Bottle containing 750ml is an invitation to enjoy cold tea, just like you enjoy a glass of wine during the food. The taste is completely different compared to hot tea.
You can find the cold brew bottles at 'Tante T' in 'Torvehallerne', where you will also find a taste test. 'Tante T' is a danish teashop located in Copenhagen, Denmark.
Or find the cold brew bottles from Hario by clicking here.
When I last visited 'Tante T', the cold brew bottle was filled with nice rooibos vanilla tea. The taste was awesome and very different from how rooibos vanilla tea taste in hot tea.
How to brew cold tea?
Add the leaves inside the glass tea bottle and pour cold water.
Mount the removable bottle spout (filter) onto the glass tea bottle.
Place it in to the refrigerator and enjoy cold brewed tea 3 to 6 hours later.
Pour directly from the glass tea bottle to glass (the filter is in the lid)
This sounds super easy – just for lazy me – but I missed some information about the amount of tea leaves for the cold brewing. I therefore asked 'Tante T' how much tea they recommend for a full cold brew botttle.
Here is the answer from Henriette, 'Tante T':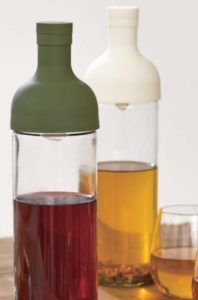 – There are actually a lot of answers, because it's completely a matter of the tea and infusion time. But try to use 1.5 as much as you would like for a hot brewing. In other words just put an extra half portion of tea leaves for the brew.
– However, do not use much more than usual if you brew a green tea – they may get a little bitter. In this case it's better to extend the infusion time. As you can see, there are no unique answers.
– So do the tasting yourself – it's (also) really a question of taste and you decide.
Ok, I think it's an advantage with an indicative amount, because otherwise I would probably use too many tea leaves. Which I also did when brewing hot tea before I bought a measuring spoon. So invest in this for your own and the guests' regards 🙂
Henriette from 'Tante T' writes that you don't need too many tea leaves when you brew a green tea, and I add that the same goes for black tea, which also becomes bitter when overdosed.
I really hope that the idea of cold brew bottles are spreading, because it's a super good idea, e.g. for parties as well. Especially when the wine intake has become too much (it happens) – and if you are not in to soda – it may be a bit boring just drinking water.
And now to a proposal of how to get what your heart wants – besides tea ♥
Recipe to get what you want
The only way to get what you want, is to know what you want…
The only way to know what you really want, is to know yourself
The only way to know yourself, is to be yourself
And the only way to be yourself, is to listen to your heart
Have a nice weekend 😀
This post is also available in:
Dansk (Danish)